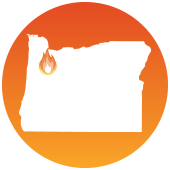 Oregon makes its first-ever appearance on the Watch List, primarily because of two high court decisions that should trouble consumers, doctors, hospitals and insurance companies alike. Though the Oregon Supreme Court has made some admirable decisions over the past year (see Points of Light, p. 62), those were not enough to outweigh its most alarming decisions. And if Oregon's judiciary continues down this darker path, it may find itself more prominently featured in a future edition of this annual report.
The first troubling decision came in Smith v. Providence Health, creating
an entirely new kind of claim against medical providers. After suffering permanent brain damage from a stroke, plaintiff Joseph Smith brought this medical negligence action, alleging that, because doctors had not taken proper steps to follow up on his complaints of stroke symptoms, he lost a chance for treatment that, in only one-third of cases, provides a patient with no or reduced complications following the stroke. Reviewing the complaint on its face, the trial court agreed with defendants that plaintiff had failed to state a claim under Oregon law. The court entered a judgment dismissing the complaint with prejudice, which the Court of Appeals affirmed.
But in May 2017 Oregon's high court reversed. Now plaintiffs who suffer adverse medical outcomes can advance speculative claims that their chances for recovery may have been reduced. This new standard for medical negligence in the Beaver State further lowers already low standards and will create added burdens for doctors and hospitals, which will ultimately be passed along to patients in the form of higher prices for care.
In addition to doctors, hospitals and patients, insurance companies are also facing new difficulties in the state. Oregon statutory law requires an insurer to pay a policyholder's attorney fees when a recovery is obtained from the insurer. After considering the definition of "recovery" in the context of this law, the Oregon Supreme Court concluded that a plaintiff in an insurance claim should be awarded attorney fees, even in the absence of a money judgment.
The high court's decision in Long v. Farmers Ins. Co. came after the plaintiff's insurer had already made five payments totaling more than $16,000 from January 2012 to February 2014 for repairs necessitated by a leak under the plaintiff's kitchen sink. The trial court awarded the plaintiff nothing more than the insurer had already paid for repairs, thus attorney fees were not awarded. An intermediate appellate court upheld that decision.
But Oregon's high court reversed, even as it conceded that text of the applicable statute left the meaning of "recovery" ambiguous. As a result, it's not unreasonable to think that a certain class of plaintiffs' lawyers will be encouraged to engage clients willing to engage in lengthy legal battles over embarrassingly weak claims with little likelihood for genuine recoveries, simply for the chance to collect some he y fees. In addition to burdening taxpayers who provide precious court resources, the costs of such litigation will invariably be paid by insurers and their less litigious policyholders.