Specific California cities and counties have regularly been cited for their civil justice system imbalances by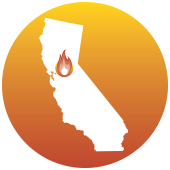 the Judicial Hellholes report since its inaugural edition in 2002. But rather than use that constructive criticism as intended and undertake reforms, things have only tended to get worse throughout much of the state. So much so that all of California was ranked #1 among the nation's Judicial Hellholes in both 2012 and 2013. And some believed that the costly, never-ending madness in its clogged civil courts had earned a third straight #1 ranking in 2014. But monumentally egregious corruption in New York City's asbestos court, which has since led to the related arrest and conviction of the Empire State's once most powerful legislator demanded that California be relegated to #2 last year.
Since then the Big Apple has a new top asbestos judge and he has signaled a new opening for fairness there. So California is back on top as #1 – the worst of the worst – in 2015. And though a lengthy book could be written each year about the state's irrepressibly plaintiff-friendly lawmakers and judges, and its often preposterous lawsuits and sometimes incredible court decisions that only encourage still more litigation, readers are asked to understand that space limitations afford only a relatively brief discussion of particularly troubling issues.