If most lawmakers in Sacramento and the reliably generous plaintiffs' lawyers who write campaign checks to keep them there can be likened to the Symbionese Liberation Army of the Berkeley-radical 1970s, then most California voters can be likened to the Stockholm syndrome-suffering heiress Patty Hearst, coming to love their captors even as hundreds of new laws – many of them designed specifically to expand civil liability on business and property owners – are enacted each year.
With another 859 new statutes added to the books in 2017, the annual average for new enactments since 2010 ticked up to more than 830, making it virtually impossible for even the most conscientiously law-abiding Californians to keep up and protect themselves from costly lawsuits. Which helps explain why data available from the Court Statistics Project of the National Center for State Courts show that more than 820,000 new lawsuits were filed in state courts in 2016. And with tens of thousands more filed in federal courts throughout the state, it's no mystery why housing and business costs continue to soar, driving a continuing outmigration of people and jobs-providing companies whose executives consistently rate California the nation's worst state in which to do business.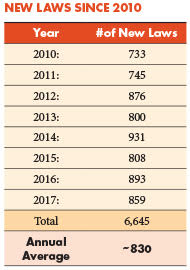 Which is why neither Los Angeles, Sacramento, Pomona or Chula Vista has so much as a snowball's chance in a hellhole of convincing online mega-retailer Amazon to locate its second headquarters anywhere within California's borders. Amazon CEO and America's richest man Jeff Bezos would have to be crazy to even think about giving the state's ravenous plaintiffs' bar an even greater opportunity to rifle his deep pockets.
In any case, as this report notes regularly, a lengthy, stand-alone book could be written every year about California's inexorable expansions of civil liability. But because these constructive criticisms seem to fall largely on deaf ears in Sacramento and in many courthouses around the state, and because leaders and citizens in more reform-minded states actually appreciate and o en act on the report's insights and critiques, this year's look at the West Coast's perennial Judicial Hellhole will pragmatically limit its focus to a limited armful of the state's civil injustices.