Sen. Schmitt again Expected to Sully Missouri's Reputation as the 'Show Me Your Lawsuits State'
Last Year's Filibuster to Protect Trial Lawyers' 'Junk Science' Helped Keep Missouri on ATRA's List of Judicial Hellholes
The American Tort Reform Association today criticized Missouri State Senator Eric Schmitt's continuing opposition to reform legislation aimed at reasonably limiting civil liability and thereby reducing the volume of meritless litigation that is costly to consumers and taxpayers and otherwise contributes to the state's growing reputation as a "judicial hellhole."
Along with Senator Kurt Schaeffer (R), Schmitt, the District 15 Republican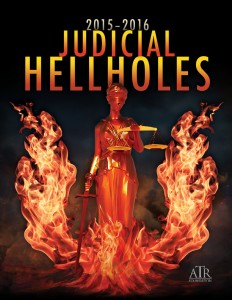 , was called out in the latest edition of ATRA's annual Judicial Hellholes ® report for filibustering and ultimately killing a bill that would have raised the standard for expert testimony and brought Missouri courts into line with all federal courts and those of more than 30 other states.
"Not surprisingly, the plaintiffs' bar strongly opposed and still opposes this higher standard known as the Daubert standard," observed ATRA president Tiger Joyce. "The trial lawyers profit from Missouri's backward status quo in which they remain free to mislead juries with 'junk science.'
"Even though Senator Schmitt is a partner at a law firm with many clients who suffer as a direct result of Missouri's lax and out-of-date standard for the admission of expert testimony, he's signaled his intention to again oppose reform legislation when it comes to the Senate floor next week," Joyce continued. "This suggests that his real loyalty is to the plaintiffs' lawyers who have contributed hundreds of thousands of dollars to his political campaigns since 2007.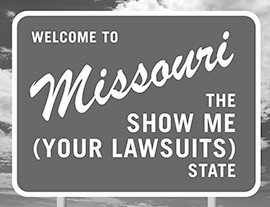 "We want to make sure that Senator Schmitt's law firm clients fully understand his position on this essential issue, just as his constituents may wish to reconsider their choice in the voting booth since many of them are certainly feeling the pinch of the Show Me Your Lawsuits State's relatively low economic growth rate.
"Senator Schmitt's website claims that his 'legislative priorities include growing our economy with quality jobs' and 'making health care more available, affordable, and portable,'" Joyce noted.  "But his efforts to kill the expert testimony reform bill, if successful, will do just the opposite.  His efforts will actually discourage job-creating and growth-driving businesses from expanding in or relocating to Missouri, and they'll make health care less available and affordable."