Out-of-State Plaintiff Scores $72 Million Talcum Powder Verdict in Missouri
Another outlier verdict in the "Show Me Your Lawsuits State" this week serves to further Missouri's growing reputation among the nation's worst Judicial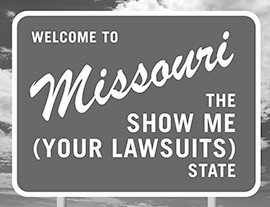 Hellholes.
As reported by Reuters, Johnson & Johnson was ordered late Monday by a St. Louis Circuit Court jury to to pay $72 million of damages to the family of a woman whose death from ovarian cancer was" allegedly "linked to her use of the company's talc-based Baby Powder and Shower to Shower for several decades."
Surviving family members were awarded $10 million in compensatory damages and $62 million in punitive damages, making the verdict the first by a U.S. jury in similar talcum powder cases to exceed what the plaintiffs had sought.
The generosity of Missouri courts and their less demanding standard for scientific evidence continues to make them a favorite for out-of-state plaintiffs.  For good reason Alabama personal injury lawyer Jere Beasley brought to St. Louis this case of an Alabama woman who allegedly used talcum powder liberally for decades and died of cancer at the age of 62.
After a three-week trial, jurors reportedly took less than four hours to find J&J liable for failing to warn consumers about the alleged risks in using their powders.
A Johnson & Johnson spokeswoman told Reuters: "We have no higher responsibility than the health and safety of consumers, and we are disappointed with the outcome of the trial. We sympathize with the plaintiff's family but firmly believe the safety of cosmetic talc is supported by decades of scientific evidence."
The case is Hogans v. Johnson & Johnson, Circuit Court of the City of St. Louis, Missouri, No. 1422-CC09012.