Florida's Plaintiff-Favoring High Court Strikes down Another Thoughtful Legislative Reform
The Florida Supreme Court, a once and future Judicial Hellhole,  ruled late last month that a lawyer who recovered just $822.70 in workers' compensation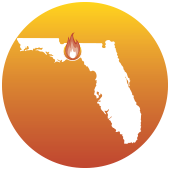 benefits for a client may be entitled to recover as much as $36,817.50 in fees – nearly 45 times as much as his client.  In so doing, the high court invalidated a statutory fee schedule for such claims and all but guaranteed higher costs for all Florida employers.  This decision in Castellanos v. Next Door Company signals the continued willingness of the court's plaintiff lawyer-friendly 5-2 majority to substitute its own public policy views for those of the legislature.
Traditionally, under the "American Rule," each side pays its own attorneys' fees in litigation.  In workers' compensation cases, however, the law authorizes a prevailing attorney for a claimant to recover his or her fees.  Florida law previously allowed attorneys to recover a "reasonable fee" based on a list of factors.  In order to provide greater predictability, the legislature deleted this phrase and replaced these factors with a statutory schedule awarding fees based on the amount recovered.  By requiring a rational relationship between the amount of workers' compensation benefits recovered and the amount paid to the claimant's attorney, this law discouraged lengthy litigation over minimal benefits.
Nevertheless, the Court found that not only was a claimant's attorney entitled to a reasonable fee for pursuing nominal litigation under the statute, but procedural due process under the Florida Constitution demanded such payment.
Two justices dissented.   Justice Charles Canady criticized the majority's assumption that "reasonableness" in awarding attorneys' fees must be based on the amount of time spent on a case rather than on the benefits obtained.  This decision, Justice Canady emphasized, is a policy decision for the legislature, not the court. Justice Canady also observed that "there is no authority to support the proposition that due process—or any other constitutional requirement relied on by the petitioner—requires that statutory fee awards fully compensate for the effective litigation of all claims."
Justice Ricky Polston found that his colleagues had rewritten the statute to reinsert language that the legislature had eliminated.  Even if a reasonable fee is constitutionally required, Justice Polston found, the majority struck down the law "by turning facial constitutional review completely on its head." It invalidated the law as unconstitutional on its face even though, in many circumstances (such as the more typical high pay-off, low-effort no-fault case), the fee schedule could constitutionally apply.
With the statutory fee schedule in tatters, employers will invariably face uncertainty and higher costs in workers' compensation claims.  Such claims will now require an individual analysis of what constitutes a "reasonable fee." As apparently desired by the court's majority, Florida lawyers who take small cases may be rewarded with huge fees.
"Most people have probably forgotten how runaway workers' compensation costs nearly caused Florida's economy to seize up and stop before the 2003 reforms. Well, now we're about to remember," said William Large, president of the Florida Justice Reform Institute.
Prior to the reforms, Florida had among the highest rates for workers' compensation coverage in the country. Already, Florida employers are bracing for a hike in workers' comp premiums.  "Limiting attorney's fees has been an important factor in reducing workers' compensation rates," according to Florida Insurance Commissioner Kevin McCarty. "A legislative remedy will be required to prevent significant increases."
But how much enthusiasm will there be for developing a sensible solution when the state's high court is predictably willing to strike down reforms that do not comport with the political preferences of its plaintiff-friendly majority?