Thanks to Governor Nixon's Vetoes, Missouri Remains the 'Show Me Your Lawsuits State'
Owned and operated by personal injury lawyers, Missouri Governor Jay Nixon yesterday vetoed two bipartisan tort reform bills that could have helped make
civil litigation a little more fair in his notorious Judicial Hellhole.
As reported by the National Law Journal, Senate Bill 591 would have modernized Missouri's "expert testimony" law and brought it into line with all federal courts and 40 other state court systems in which judges act as "gatekeepers" to ensure that juries hear only scientifically sound evidence.
But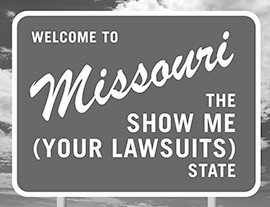 Nixon and the "Show Me Your Lawsuits State" shysters he serves obviously prefer having juries exposed to junk science, making it easier to target corporate defendants with meritless lawsuits.
For example, no sound science supported out-of-state plaintiffs' claims that use of talcum powder had caused their ovarian cancer, but two separate City of St. Louis juries nonetheless issued monster verdicts against Johnson & Johnson earlier this year — one for $72 million and another for $55 million.  Such claims had failed previously in other venues.
The generosity of Missouri courts and their less demanding standard for scientific evidence continues to make them a favorite for out-of-state plaintiffs.
Nixon also vetoed Senate Bill 847 which, according to the Missouri Times, would have logically limited personal injury plaintiffs' compensation for medical expenses to what was actually paid, not what was originally billed (but later negotiated downward or written off altogether).
Missouri Chamber of Commerce & Industry president and CEO Daniel P. Mehan told the Times: "The legal climate reform bills passed [by legislators] this session represented a commonsense first step toward moving our state back into the judicial mainstream."  The vetoes, he said, are "very disappointing, [but] not unexpected.  Trial attorney special interests are entrenched in Jefferson City, making it incredibly difficult to make any progress toward creating a fair judiciary in our state. The only good news is that this is an election year and voters will have the opportunity to select new representation.  Over the next few months we will be urging Missourians to elect lawmakers and statewide office holders who value a fair judiciary over the interests of trial attorneys."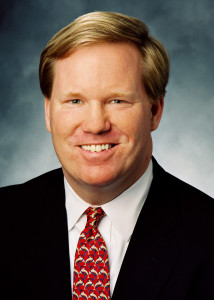 American Tort Reform Association president Tiger Joyce called Nixon's vetoes "sadly predictable."  He added, "The governor's gone out of his way to resist reasonable reforms that could help make Missouri's civil justice system more fair and evenhanded.  Ignoring the fact that fair courts help boost state economies when businesses feel safer to expand or relocate and hire more workers, perhaps this lame-duck governor has lost interest in the needs of his struggling constituents and is now focused primarily on what wealthy trial lawyers can do for him in the future."