Federal Judge Warns of Sanctions for Purveyors of 'Frivolous' Mesh Cases, More Broadly Questions Abuse of MDLs
A federal judge presiding in Georgia over multidistrict litigation (MDL) that alleges certain pelvic mesh implants caused painful infections in women has fired a Rule 11 warning shot across the bow of plaintiffs counsel still floating "frivolous" claims in his courtroom.
In an order issued yesterday, U.S. District Chief Judge Clay D. Land (Middle District of Georgia) said he's wasted too much time and court resources deciding summary judgments in these consumer lawsuits against Mentor Corp., a Johnson & Johnson subsidiary:
Some of these cases involved claims that were clearly barred by the applicable statute of limitations. In others, plaintiff's counsel was unable to identify a specific causation expert or point to other evidence to create a genuine factual dispute on causation. And in some cases, counsel threw in the towel and did not even bother to respond to the summary judgment motion. Nevertheless, the Court had to waste judicial resources deciding motions in cases that should have been dismissed by plaintiff's counsel earlier — cases that probably should never have been brought in the first place.  Enough is enough.
Judge Land's order went on to make clear that all plaintiffs' attorneys of record in the MDL are on notice that any future order granting summary judgment in which no good faith basis existed for maintaining the action through the quick judgment phase will require plaintiffs counsel to show cause why sanctions under Federal Rule of Civil Procedure 11 should not be imposed.
"Thus it would behoove counsel to take a close look at your cases and decide whether you truly have a good faith basis for proceeding; and if you do not, dismiss the case," Judge Land advised.  Because "if the deadline for identifying experts has expired and you still have no idea how you're going to prove specific causation, then failing to recognize that your case is no longer viable places you at risk of being sanctioned.
"Similarly," counsel pressing claims made after the applicable statute of limitations had expired "may face a serious challenge showing cause as to why sanctions should not be imposed."
The U.S. Judicial Panel on Multidistrict Litigation consolidated these particular pelvic mesh lawsuits in Judge Land's Georgia federal court in early 2015.  Since then, the defendant has settled one of six bellwether cases and was granted summary judgment in three more because the statute of limitations had run out.
Noting these mesh case facts, Judge Land raised questions about personal injury lawyers' broader distortion and manipulation of the federal MDL process, writing:
[T]he evolution of the MDL process toward providing an alternative dispute resolution forum for global settlements has produced incentives for the filing of cases that otherwise would not be filed if they had to stand on their own merit as a stand-alone action. Some lawyers seem to think that their case will be swept into the MDL where a global settlement will be reached, allowing them to obtain a recovery without the individual merit of their case being scrutinized as closely as it would if it proceeded as a separate individual action. This attitude explains why many cases are filed with little regard for the statute of limitations and with so little pre-filing preparation that counsel apparently has no idea whether or how she will prove causation. …This phenomenon produces the perverse result that an MDL, which was established in part to manage cases more efficiently to achieve judicial economy, becomes populated with many non-meritorious cases that must nevertheless be managed by the transferee judge — cases that likely never would have entered the federal court system without the MDL.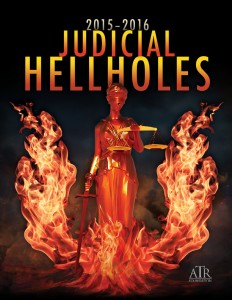 Having raised similar concerns about MDLs with a Closer Look in last year's Judicial Hellholes report (see p. 52), ATRA applauds Judge Land's candor and urges all federal judges to take note of his important September 7 order.