Missouri Invites Out-of-State Plaintiffs' Claims against Out-of-State Defendants for Alleged Out-of-State Injuries
A decision last week by the Supreme Court of Missouri effectively rolls out a "Show Me Your Lawsuits State" welcome mat for lawsuits by out-of-state plaintiffs against out-of-state defendants over alleged out-of-state injuries.
The state's notoriously weak venue law has long allowed plaintiffs' lawyers to shop their cases to the friendliest courts.  As reported by Missouri Lawyers Weekly, the court's decision firmly cements the state's position as a top ten worst jurisdiction for judicial fairness, balance, and consistency. Now there is virtually nothing stopping plaintiff's lawyers from picking their preferred judge and jury.
In this case, a Kansas title company sued a Kansas lawyer in Missouri state court for malpractice stemming from a Kansas bankruptcy case in a Kansas federal court. While Kansas and Missouri arguably share a city, that's no excuse for Missouri to try to steal cases that properly should be handled by its Jayhawk neighbors.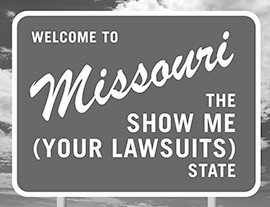 The Missouri Supreme Court eschewed an opportunity to limit its holdings to just the facts of this case where the defendant consented to the personal jurisdiction of the court. Instead, the Court interpreted the statute in the broadest terms imaginable by adopting plaintiff's argument that as long as personal jurisdiction is not improper, then venue is proper anywhere the plaintiff chooses.
There is no question that this case will play no small part in attracting ever larger flocks of out-of-state plaintiffs' lawyers to the "Show Me Your Lawsuits State."