'Lawsuit Industry' Is Election's 'Biggest Loser'
ATRA Cites PI Lawyers' Spending, Dashed Hopes of Ending Arbitration And Boosting Class Actions    
WASHINGTON, D.C., November 9, 2016 – Despite President-elect Donald Trump's history of litigiousness, which the American Tort Reform Association duly questioned last February, the nonpartisan nonprofit today declared the "lawsuit industry" to be "arguably the biggest loser in last night's historic election."
ATRA president Tiger Joyce observed that, "As they routinely do, personal injury lawyers spent many millions of dollars during this campaign cycle, hoping to capture all the levers of power in Washington and otherwise advance their civil liability-expanding agenda in certain statehouses across the country.
"In fact," Joyce continued, "in recent weeks, as the pundits and polls projected a winning night for lawsuit industry-backed candidates up and down the ballot, politically powerful trial lawyers began to not-so-privately share their plans to erode and repeal the Federal Arbitration Act, reverse recent Supreme Court decisions that have reined in speculative, no-injury class actions, and more broadly and lastingly exercise unprecedented influence on the vetting and selection of nominees to the federal bench.
"But Mr. Trump has pledged to appoint judges with records of largely leaving lawmaking to the politically accountable legislative and executive branches of government.  And with our nation's economy still struggling under the weight of too many lawsuits, not too few, this bodes well for reasonable limits on civil liability.
"After all, with the exception of the class action lawyers who concoct and drive them, no one benefits from lawsuits alleging that Subway's foot longs are marginally too short or that Starbuck's iced coffees have too much ice. Neither does anyone, other than unscrupulous trial lawyers, benefit from rampantly fraudulent asbestos litigation.
"So, thankfully, the personal injury bar's plans to dominate policy-making at the federal level have been thwarted ̶  at least for the time being.
"Of course, this doesn't mean the trial lawyers won't quickly turn their millionaire lobbyists toward liability-expanding efforts in the various statehouses," Joyce cautioned. "For example, in states such as California, Connecticut, Hawaii, Nevada and Washington, trial lawyers' political allies managed to hold or even increase their control. ATRA and others will be playing defense there.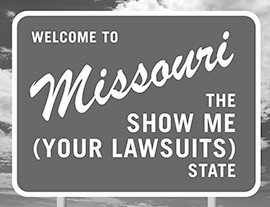 "But the outlook is brighter elsewhere. For example,  in the 'Show Me Your Lawsuits State' of Missouri, a new governor and stronger tort-reform majorities in the legislature can finally put an end to trial lawyers' willful misuse of junk-science to win wholly groundless lawsuits that often result in verdicts in the tens of millions of dollars.
"And in states such as Iowa, Kentucky and West Virginia, tort reformers are similarly hopeful about moving the civil justice reform dial in the right direction," Joyce concluded.
-ATRA- 
The American Tort Reform Association, based in Washington, D.C., is the only national organization dedicated exclusively to tort and liability reform through public education and the enactment of legislation.  Its members include nonprofit organizations and small and large companies, as well as trade, business and professional associations from the state and national level. The American Tort Reform Foundation is a sister organization dedicated primarily to research and public education.