Philadelphia's 'Complex Litigation Center' Backsliding toward Return to Judicial Hellholes List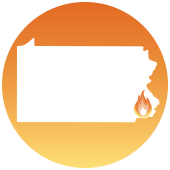 After topping the annual Judicial Hellholes rankings in both 2010 and 2011, Philadelphia's Complex Litigation Center (CLC) for mass torts undertook dramatic reforms in 2012 that significantly improved balance and fairness.  But as judicial conduct there has again begun to encourage plaintiffs' lawyers from across the country to bring their cases to Philly, the "City of Unbrotherly Torts" is backsliding toward its ignominious past.
As reported by the Legal Intelligencer, the Keystone State's leading legal publication, the number of mass tort cases pending in the CLC "at the start of 2017 has risen to its highest level in more than five years."
Court data show that "the number of cases pending in mass tort programs has risen for the third year in a row, and has surpassed the number of cases pending in 2012" when then-Chief Administrative Judge John Herron undertook changes intended to significantly lower the CLC's mass torts inventory, which at the time comprised an overwhelming majority of claims from out-of-state plaintiffs.
The number of CLC cases pending on January 1 this year stood at 6,196, including 5,601 pharmaceutical cases and 595 asbestos cases. This represents a nearly 16% increase over the 5,320 cases pending on the same date last year, and an increase of 22 cases over those pending in 2012.
If there's any good news to be found in this dismal backsliding it is the fact that the percentage of pharmaceutical cases filed by out-of-state plaintiffs in the CLC is at its lowest point in more than a decade.  But nearly 3 of 4 newly filed pharmaceutical cases at the CLC in 2016 were still filed on behalf of out-of-state plaintiffs — at Pennsylvania taxpayers' expense.
More broadly, 1,615 new mass tort cases were filed in 2016.  That's an increase of 327 cases, or more than 25%, over 2015's 1,288 new filings.