Ad Campaign in Missouri Advocates Tort Reform, Notes Influence of 'Judicial Hellholes' Report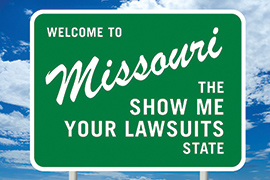 Missouri Rising, a pro-business advocacy group helping to push needed civil justice reforms through the Show Me Your Lawsuits State's legislature, began airing television ads this month which note the fact that ATRA's latest Judicial Hellholes report named St. Louis as the nation's #1 hellhole.
In recent coverage by the Missouri Times, the group's executive director, Brian Rogers, said, "Trial lawyers are taking advantage of Missouri's legal system to attack our state's companies and destroy jobs with frivolous lawsuits.  It is past time to take on the special interest power of the trial lawyers with legal reform that levels the playing field for Missouri's job creators."
Rogers says Missouri Rising will release to lawmakers at the State Capitol detailed research that makes the economic case tort reform legislation.