Fraud Arrests of 5 Florida Personal Injury Lawyers Represent 'PIP' of the Iceberg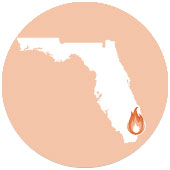 According to reports published last week, at least five Florida personal injury lawyers have been arrested for their alleged roles in a car accident racket known as "PIP" fraud.
As documented by numerous Judicial Hellholes reports in the past, fraudulent personal injury protection (PIP) claims have plagued insurers and honest auto-policy holders in South Florida for many years, putting upward pressure on what are already some of the highest car insurance rates in the nation.
Among other news outlets, CBS12-TV reported last Thursday that Broward County authorities arrested 10 people — five lawyers and five accomplices — they say were involved in a patient brokering scheme that netted them "more than half a million dollars" in kick-backs
A multiagency investigation began in 2015.  Those arrested thus far include lawyers:
Adam Hurtig, 46, of Fort Lauderdale
Alexander Kapetan, 44, of Lighthouse Point
Vincent Pravato, 48, of Davie
Steven Slootsky, 57, of Boca Raton
Mark Spatz, 58, of Davie
And solicitors:
Joaquin Barreda, 39, of Plantation
Mark Eskin, 62, of Boca Raton
Richard Kist, 36, of Jupiter
Elvira Perchitti, 53, of Port St. Lucie
James Perchitti, 61, of Port St. Lucie
Investigators allege that these personal injury lawyers paid the others to illegally solicit auto accident victims to make insurance claims for damages or personal injury protection benefits.
Authorities say the lawyers paid solicitors anywhere from $500 to $1,500 per client and then referred the victims to a healthcare facility in exchange for a cash kickback of $1,500 to $2,500 per patient.  After patients were brokered to the healthcare facility their purported treatments were fraudulently billed to auto insurance companies, say investigators.
All suspects in this case face numerous charges, including organized fraud, criminal solicitation and patient brokering.  And as encouraging as it is to see a least a modicum of justice being meted out to some comprising Florida's notoriously parasitic plaintiffs' bar, those in the know in South Florida say these particular criminal defendants represent barely the tip of the PIP fraud iceberg.  So ATRA encourages authorities to expand such investigations and bring similar fraud charges against more culprits.