Two Florida Firms' Fraudulent Tobacco Claims Draw Nearly $9.2 Million in Sanctions
Meanwhile, Political Puppets of Plaintiffs' Bar In Legislature Keep Trying to             Roll back Cap on Appeal Bonds 
With at least six Florida personal injury lawyers now facing unrelated criminal charges for defrauding auto insurers and the Sunshine State already in the running for this year's #1 ranking among the nation's Judicial Hellholes, a panel of four federal judges last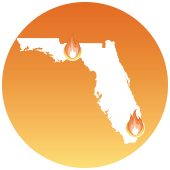 week imposed nearly $9.2 million in sanctions on two Jacksonville-based plaintiffs' firms for their shameless pursuit of more than 1,200 "frivolous and factually baseless lawsuits" against tobacco defendants.
In a 148-page order, the U.S. District Court for the Middle District of Florida detailed how lawyers at the Wilner Firm and Farah & Farah had committed "unprofessional conduct [on] . . . a grand scale," showing "reckless disregard for their profession's ethical duties" and "disdain for the Court."
As reported by the Florida Times-Union, the Wilner and Farah firms "filed claims in 2008 on behalf of hundreds of people who had not authorized them to do so and people who had never smoked. More than 500 of the people were dead."  Problems with these claims were discovered in 2012 when, over the lawyers' strenuous objections, the court sent questionnaires directly to plaintiffs.
The lawyers had filed the phony claims pursuant to a Florida Supreme Court decision known as Engle, which made Florida the "center of [the] tobacco litigation universe." As discussed in previous Judicial Hellholes reports, the 2006 Engle decision preserved findings in a class action lawsuit that place two strikes against defendants. Individuals who were members of the class would not have to establish that the companies were negligent, sold a defective product, or that cigarettes cause certain diseases. They would only need to show that he or she was a member of the class (smoked during a certain period), that addiction caused his or her injuries, and the amount of damages. The only catch—to take advantage of this ruling, plaintiffs' lawyers had one year to file individual claims.
And take advantage they did. Since the two law firms couldn't get in touch with many of the people they heard from as the Engle litigation wound through the Florida courts between 1994 and 2006, the lawyers filed complaints for them anyway. The firms filed about 3,700 lawsuits on behalf of over 4,400 "clients" that made their way to federal court as the deadline approached in 2008. Over the next several years, the court repeatedly asked the lawyers to confirm they had viable cases on behalf of clients who wished to proceed with litigation. In response, the lawyers represented to the court that they had authorization to file the suits and had recently been in touch with their clients.
An extensive investigation through appointment of a special master, building on an earlier ruling of the U.S. Court of Appeals for the Eleventh Circuit, found otherwise. It indicated that the lawyers filed 588 personal injury complaints on behalf of dead people who could not bring such a claim. Another 572 cases involved a plaintiff who did not respond to a court-ordered questionnaire and likely did not authorize the firms to file or maintain lawsuits.
In all, the court found that about one third of the cases filed by the Wilner and Farah firms were frivolous, representing an "immense waste of judicial resources and contempt shown for the judicial process" by maintaining so many non-viable claims.  The judges ordered the firms to pay $6,983.42 (the estimated waste of judicial resources) for each of 1,250 frivolous suits, and cover the $435,129.12 cost of the special master's seven-month investigation. They referred the matter to the Florida Bar, which ATRA urges to take harsh disciplinary action.
Judges William G. Young, Timothy J. Corrigan, Marcia Morales Howard and Roy B. Dalton Jr. are to be applauded for facing Florida's rampant lawsuit abuse head on.  While they recognized that "it would have been easier . . . to let this matter go," they did the right thing by showing such egregious conduct will not be tolerated.  Other judges presiding over mass tort litigation in Florida and elsewhere should follow their example.
Meanwhile, some Florida lawmakers — functioning as political puppets of the powerful plaintiffs' bar — keep pulling strings in the opposite direction, trying to make it easier for the state's shyster class to coerce settlements from civil defendants.  For example,  state Rep. Danny Burgess (R) and Sen. Greg Steube (R) earlier this year tried but failed to pass legislation that would have repealed the state's appeals bond cap for tobacco defendants.  And Florida Politics.com reports that a renewed effort is expected in 2018.