California Tops Latest List Of 'Judicial Hellholes'
♦
Annual Report Also Critical of Civil Courts in New York City, Florida, Missouri, Illinois, Louisiana, Texas and Virginia
♦
West Virginia Heroically Escapes Its Perennial 'Hellhole' Past with Major Reforms, Moves to 'Watch List' with Philadelphia, New Jersey and Pottawatomie County, Oklahoma
♦
'Points of Light' Focus on Good News from Louisiana Media; Courts in Delaware, Nevada, Ohio, Texas, Kentucky, Florida and Texas; and 15 State Legislatures
♦
'Closer Looks' Spotlight Problems with Federal Multidistrict Litigation And the Influential American Law Institute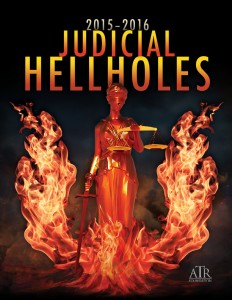 WASHINGTON, D.C., December 17, 2015 – The American Tort Reform Foundation issued its 2015-2016 Judicial Hellholes® report today, naming courts in California, New York City, Florida, Missouri, Illinois, Louisiana, Texas and Virginia among the nation's "most unfair" in their handling of civil litigation.
"With both this annual report and a year-round website, our Judicial Hellholes program since 2002 has been documenting troubling developments in jurisdictions where civil court judges systematically apply laws and court procedures in an unfair and unbalanced manner, generally to the disadvantage of defendants," began American Tort Reform Association president Tiger Joyce.
"This year's report shines its harshest spotlight on many courts and government authorities throughout hyper-litigious California, where legislators see fit to produce more than 800 new laws each year, inviting evermore litigation as residents and businesses can't hope to keep up with what's legal and what isn't," Joyce continued.
The report also critically analyzes eight more Judicial Hellholes: New York City's asbestos court, last year's #1 ranked hellhole, which may now be changing for the better with a new judge in charge; consistently plaintiff-friendly state courts in Florida and Missouri; judges and trail lawyers in the asbestos lawsuit capital of America, rural Madison County, Illinois; the personal injury-bar's growing influence on Louisiana's courts, lawmakers and other government bodies; both a county and a federal court in Texas – Hidalgo County and the U.S. District Court for the Eastern District of Texas – known for their bias against civil defendants; and the procedures and rules in Newport News, Virginia, that almost guarantee asbestos plaintiffs a win if their cases go to trial.
"But with its dramatic move to our report's less onerous Watch List this year, the biggest newsmaker may be once perennial Judicial Hellhole West Virginia," observed Joyce. "Fed up voters there last year threw out trial-lawyer dominated majorities in the legislature and replaced them with reformers who quickly passed many civil justice bills aimed at reasonably limiting liability and jump-starting the nation's worst state economy. Of course, the Mountain State's high court is still controlled by a liability-expanding majority, so the progress made by lawmakers may yet be undermined from the bench."
Joining West Virginia on the Watch List are Philadelphia, where mass tort cases are ticking up again after the retirement of a reform-minded chief judge, and problems elsewhere throughout the Keystone State – including Allegheny County's asbestos docket – are raising broader fairness questions; New Jersey, with its own mass tort dockets targeting pharmaceuticals, problems with consumer protection lawsuits and medical liability, and a growing hostility to lawful arbitration agreements; and tiny Pottawatomie County, Oklahoma, where a particular judge seems bent on delivering giant paydays for trial lawyers.
"As in the past, this year's Judicial hellholes report also cites many singular court decisions with Dishonorable Mentions," Joyce noted, "including state high courts in Colorado, Indiana, Nevada, New Hampshire and South Carolina, an appellate court in Maryland, and a trial court in Tennessee.
"But our report's Points of Light section always focuses on good news, too. This year's good news comprises exemplary journalism that educated Louisiana voters about their attorney general's cozy relations with personal injury lawyers; sound court decisions in Delaware, Nevada, Ohio, Texas, Kentucky, Florida and Texas; and enactment of civil justice reform statutes in 15 states.
"And finally, this year's also report offers two important Closer Looks – one at plaintiffs' lawyers' growing abuse of federal multidistrict litigation (MDL), and another at the influential American Law Institute's (ALI) recent inclination to stray from its traditional mission by advocating significant expansions of civil liability," Joyce concluded.
Full text of the 2015/2016 Judicial Hellholes report is posted here (2.3MB PDF) or read the Executive Summary.