With 'Epidemic' of Multiple-Defendant Claims, Madison County Remains the Nation's Leader in New Asbestos Cases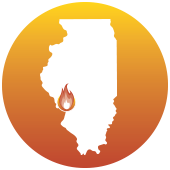 Illinois' perennial Judicial Hellhole, rural Madison County, is not ready to give up its dubious distinction as the nation's epicenter for asbestos litigation anytime soon.
According to a recent midyear report and earlier annual report by KCIC Consulting, Madison County's asbestos filings increased by 5% from 2014 to 2015 and continued to increase during the first half of 2016. The riverside county of fewer than 270,000 people was home to 29% of the nation's asbestos filings in the first half of 2016 – up from 25% of the nation's asbestos filings in 2015. Now, the county sits atop the ranking with more than twice as many filings as second place Baltimore City.
While total filings are down nationwide, plaintiffs lawyers have continued to cast a wide net in hopes of catching deep-pocketed defendants. The average number of defendants named in each case increased to 69 in 2015, up from 64 in the previous year.  Over 20% of asbestos filings named 101 or more defendants.  The plaintiffs lawyer practice of "naming multiple defendants has practically become an epidemic," recognized KCIC Consulting. Of 4,456 asbestos lawsuits filed in 2015, only 12 were limited to one defendant.
Madison County's commitment to being the nation's premier jurisdiction of choice for plaintiffs comes at no surprise. The county has a history of unfair docketing practices, pay-to-play trial schedules, and nearly-unlimited venue rulings, landing Madison County on our list of Hellholes or Watch List jurisdictions every year since 2002.
Other jurisdictions are also being closely watched by Judicial Hellholes. Los Angeles, in particular, anchors the nation's #1 Judicial Hellhole, California, with a 41% increase in mesothelioma filings.