Refusing to Stay Groundless Talc Cases, Missouri High Court Doubles Down on Open Invitation to Out-of-State Plaintiffs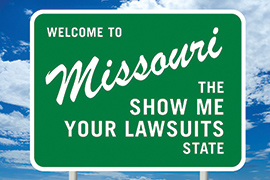 Last week the Missouri Supreme Court doubled down on a horrible, anything-goes venue decision it made last fall by refusing to stay some 1,350 cases brought predominantly on behalf of out-of-state plaintiffs in St. Louis,  the nation's #1 Judicial Hellhole, which allege that talcum powder products cause ovarian cancer.
As Bloomberg has reported, St. Louis civil courts are known for "fast trials, favorable rulings, and big awards." In an effort to precondition potential jurors, plaintiffs' lawyers have inundated St. Louis television viewers with $10 million worth of intentionally misleading commercials that link talc use to ovarian cancer.  And Missouri's lax, outdated standard for admission of expert testimony allows the manipulation to continue inside the courtroom.
The overwhelming majority of St. Louis talc plaintiffs have no connection to Missouri — they do not reside there, nor do they allege their exposure to talcum powder occurred there.  But on January 24, the state's high court nonetheless rejected the defendants' argument that these lawsuits have no business being tried there.  Ecstatic plaintiffs' lawyers immediately issued a press release hailing a victory that is sure to draw still more suits to St. Louis.
Plaintiffs' lawyers say they're entitled to try all their talc cases in St. Louis — regardless of where respective plaintiffs live or allegedly incurred their injuries — because it is a "central location with well-educated jurors, a fair-minded judiciary, and efficient court system."
Well, jurors there certainly have been well-educated by manipulatively misleading TV commercials and many judges have been in the pockets of the plaintiffs' bar for decades, so St. Louis undoubtedly is an efficient venue for self-interested contingency-fee lawyers.  But it's not so efficient for everyone else, such as local taxpayers forced to provide court resources for out-of-state plaintiffs, Missouri jobseekers negatively affected by business decisions against expanding in or relocating to the plaintiff-friendly state, and consumers who suffer higher prices when litigation costs are invariably passed on.
The past three talc trials in St. Louis Circuit Court last year resulted in verdicts of $72 million, $55 million, and $70 million for plaintiffs hailing from Alabama, South Dakota and California.  By way of contrast, a New Jersey court tossed groundless "expert" testimony offered in two talc cases there because it lacked scientific support and seemed like it had been "made for litigation."  The same experts barred in the Garden State were instrumental in the three giant talc verdicts in the Show Me Your Lawsuits State .
Now, St. Louis is set to host another talc trial beginning February 6.  It's been filed on behalf of a woman from Tennessee.  But the legislature is moving a bill that will finally impose a more exacting standard for expert testimony — the same standard used by all federal courts and 40 state court systems — and the new governor seems determined to sign it into law.