Florida High Court's Plaintiff-Favoring Majority again Disregards Lawmakers, Embraces Junk Science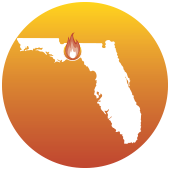 The Florida Supreme Court's plaintiff-favoring majority yesterday maintained its reputation for wholly disregarding the authority of duly elected state lawmakers with a 4-2 decision, refusing to adopt a 2013 reform law that raised the Sunshine State's standard for expert testimony to that of all federal courts and 39 other state court systems.
The so-called Daubert standard, named for the 1993 U.S. Supreme Court case that established it, requires judges to act as gatekeepers, ensuring that only peer-reviewed, generally accepted scientific theories are allowed to be heard by juries.
In an effort to reduce meritless but costly lawsuits based on junk science, Florida lawmakers saw fit to enact statutory reform adopting Daubert.  But three years later the high court effectively did the bidding of the state's politically powerful plaintiffs' bar and exercised a veto, leaving Florida courts to revert back to the porous Frye/Marsh approach, including its "pure opinion" loophole which, according to the Florida Bar Journal, "allows a large and important class of purported expert testimony to be admitted into evidence without any scrutiny of whether it has any of the indicia of reliability articulated in any of the existing reliability tests."
Meanwhile, the Daubert reform statute may remain on the books, but courts will not apply it.  Uncertain is how yesterday's ruling will  impact the cases during the past 3 years in which courts denied admission of questionable evidence.
Parroting plaintiffs' bar propaganda and offering no substantive analysis, the majority — comprising Chief Justice Jorge Labarga, and Justices Barbara Pariente, Fred Lewis and Peggy Quince — based its rather flimsy decision against adoption of the more exacting standard on "grave constitutional concerns" that Dauebrt would somehow undermine the right to a jury trial and deny access to courts.
But in his brief dissent, joined by Justice Charles Canady, Justice Ricky Polston noted, "the standard has been routinely applied in federal courts" for 23 years and in the "clear majority of state jurisdictions" for many years without denying anyone access to justice.
Justice Polston cited a note to the federal rule of evidence explaining that, "[a] review of the caselaw after Daubert shows that the rejection of expert testimony is the exception rather than the rule.  Fed. R. Evid. 702 advisory committee's note to 2000 amendment.  Daubert did not work a 'seachange over federal evidence law,' and 'the trial court's role as gatekeeper is not intended to serve as a replacement for the adversary system.' " Id. (quoting United States v. 14.38 Acres of Land, 80 F.3d 1074, 1078 (5th Cir. 1996)).
"Furthermore," Polston added, "I know of no reported decisions that have held that the Daubert standard violates the constitutional guarantees of a jury trial and access to courts."
Florida's newest justice, C. Alan Lawson, did not participate in the decision.