Everlasting Judicial Hellholes: A Long, Hot 20 Years
Jurisdictions in Louisiana were named Judicial Hellholes® a total of 11 years, plus four years on the report's Watch List. Recurring issues over the past 20 years include coastal and environmental litigation against energy companies, auto insurance scams and a large number of auto injury claims, government cronyism, and up until recently, a high jury trial threshold.
Legal Services Advertising
Lawyers know this is a Judicial Hellhole. Louisiana accounts for a disproportionate amount of legal services TV ads and spending on those ads (4% of all spending and 5.6% of ads in one quarter) considering that the state makes up less than 1.5% of the nation's population.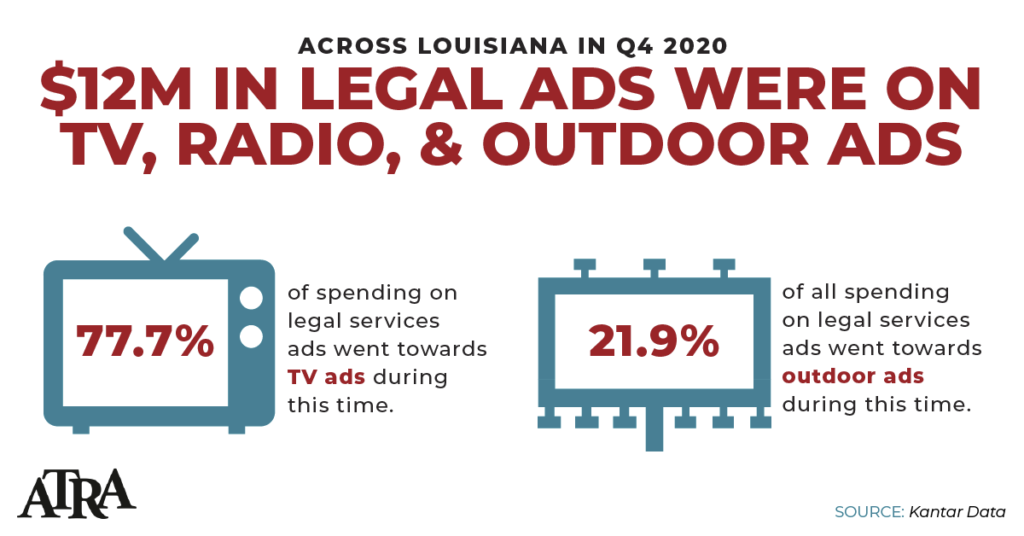 Economic Impact
We know through research that frivolous tort cases or those that result in excessive damages and rewards can have negative consequences on the economy. These excessive tort costs are destructive to American businesses and harmful to consumers, wiping out billions of dollars of economic activity on an annual basis. A 2021 study by John Dunham & Associates found that if Louisiana enacted certain tort reforms, the resulting savings to residents and businesses of the state would be more than $2 billion. This means that residents are in effect paying a "tort tax" of $451 per person. According to this study, the savings from reforming Louisiana's tort system could support an additional 22,550 jobs and $3.87 billion in increased economic activity.